Unique Innovative Technology
Fully-flexible system
An electric conveyor from Conveyor 22 is a complete product, delivered with control box, manual and fasteners for conveyor and tray. We provide a fully-flexible system that is adaptable for all kinds of industrial applications as well as being fully adjustable in X, Y and Z. A one-stop purchase, simply plug and go.
Quality
All conveyors from Conveyor 22 are high quality products, designed and constructed for long life and maintenance-free operation. We give a one-year warranty and offer technical support.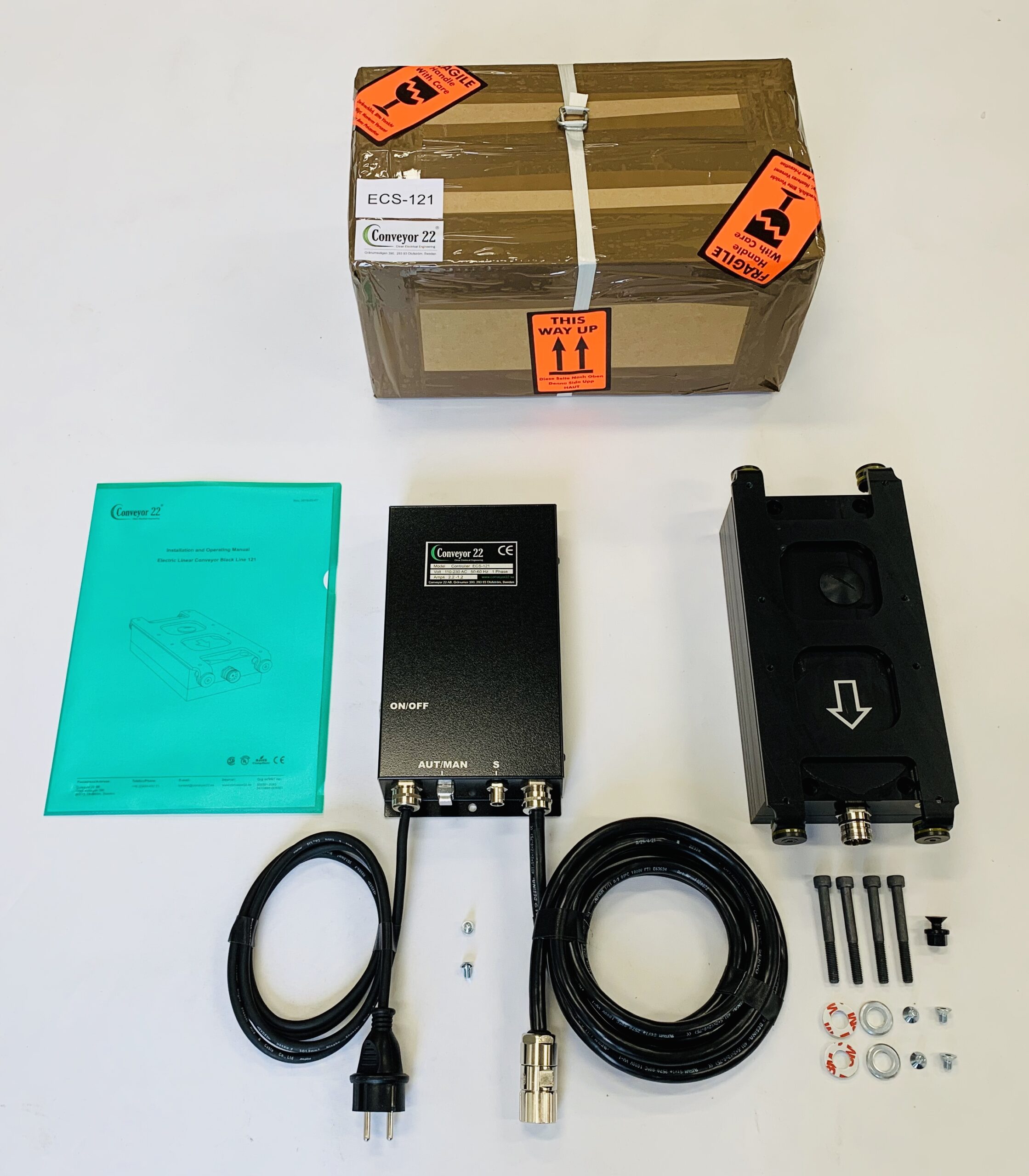 Our technology
Moving principle
Precise, linear and smooth movement is the principle behind our technology. The tray mounted on the conveyor moves slowly forward moving the material. This movement is followed by an accelerating backward movement which ensures the material remains stationary while the tray moves smoothly and gently forward.
Motor inside the conveyor
The conveyor is driven by a sensor-controlled ball bearing BLDC motor with high torque and a long life. The sensors ensure only the energy required for the actual load is used. When starting up, 200% more power is supplied to the conveyor, so it can be started fully loaded.
Built-in monitoring system
Downtime due to malfunctioning can be very costly, therefore our conveyor are fitted with a built in motion sensor. In the event of a malfunction, a signal will immediately be emitted via the M12-contact and the whole production line can be stopped. There is no need for any external sensor. The conveyor can also be controlled from PLC via the M12-contact (Start/Stop).
Control box
The control box can be installed several meters from the conveyor. For heat removal, it is important that mounting takes place upon a metal surface. The unit is powered by 110-230 V, 50-60 Hz, 1-phase AC. We can also provide 24 VDC versions. The control box supplies the conveyor with sensor controlled power and contains motor and overload protection and malfunctioning warning.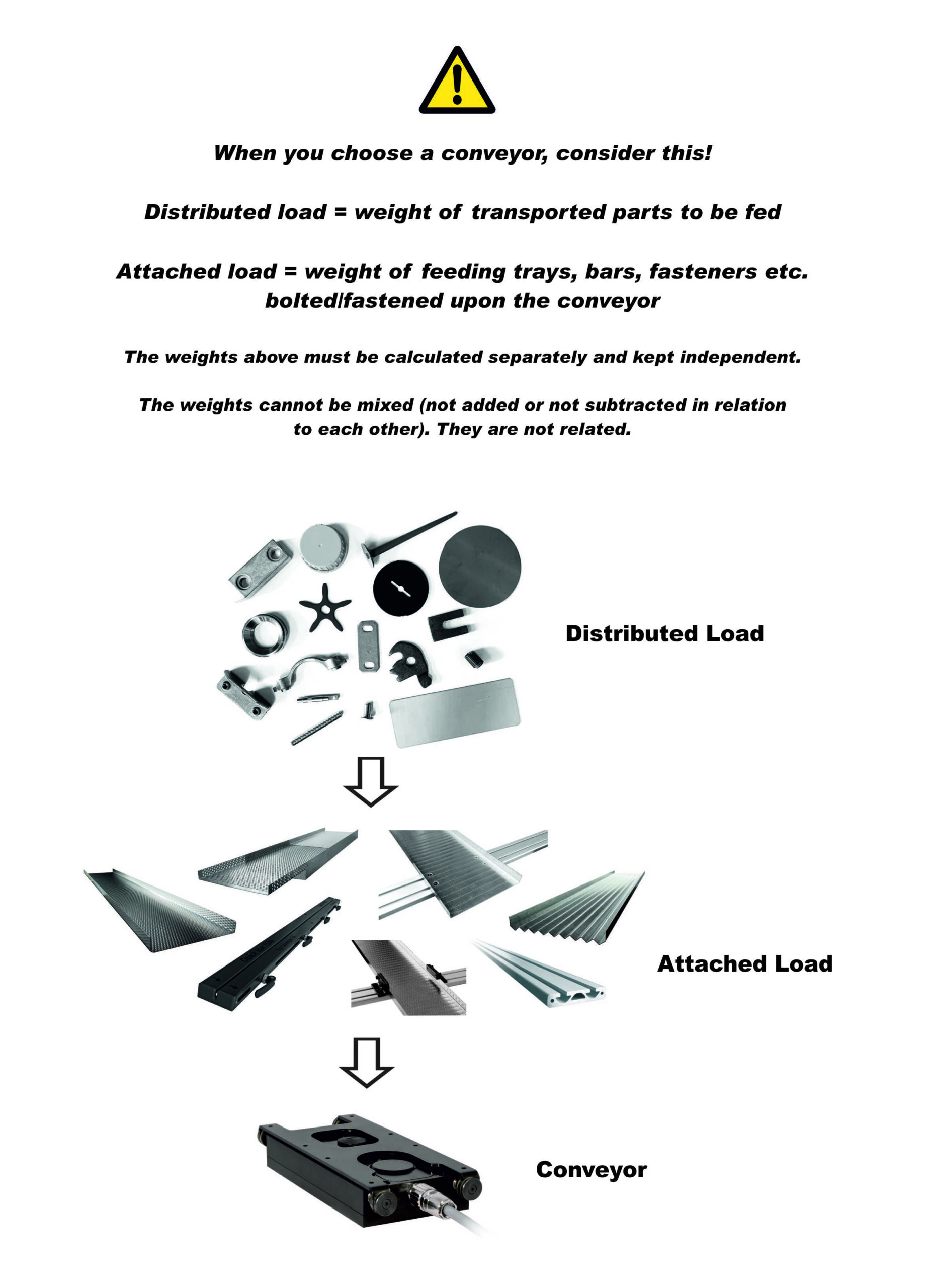 Compact size
The compact size of our conveyors makes them unique in the world. They are easily attached or
incorporated into stamping presses, machine tools and manufacturing systems.
Speed adjustment
The mechanical stepless speed adjustment allows you to easily adjust the conveyor to focus on
strength or speed according to the transported material. The sensor-controlled technology
generates 200% more power at start up, so the feeding tray can be started fully loaded.
Convenient installation
Our conveyor can be easily mounted by using four clamping bolts. They can be controlled digitally
from a PLC and communicate bidirectionally with stamping press/manufacturing machine. The linear
conveyors are available in two versions 110-230 VAC, 50-60 Hz, single phase AC or 24 VDC.
Unique movement
Our unique linear movement distributes and spreads the parts during conveying which reduces static
electricity generation. It is more gentle and smooth against the transported parts than traditional vibration
conveyors movement. We can transport different items at the same speed regardless of their weight and
volume without need of frequent adjustments.
Maintenance-free
Our conveyor is designed for continuous operation and long maintenance-free service life.
There is only one moving outer part, compares with the numerous moving parts in a conveyor belt
system! No belt to change, no outer part to be lubricated and the metallic tray is easy to clean.
Maintenance costs are reduced drastically.
Super Energy Efficiency
Due to its electric powering and low friction, our conveyor consumes 95% less energy compares
to a pneumatic conveyor. The advanced sensor controlled motor ensures that only the energy
required for the actual work load is consumed.